Archive for the 'Club Service' Category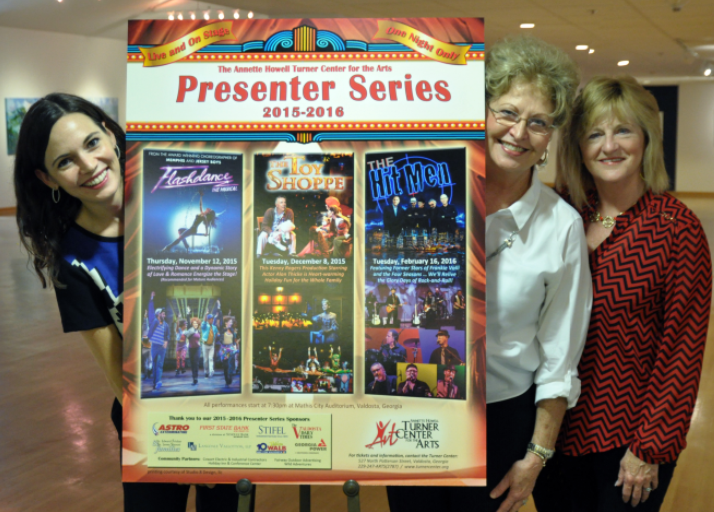 Joanna Nijem, Cheryl Oliver, Nancy D. Warren will entertain us with a preview of the Turner Center for the Arts Presenter Series lineup, which includes the Broadway shows for the 2015-2016 season.
The Annette Howell Turner Center for the Arts was built in 2003 and named in memory of Annette Howell Turner, late wife of former Georgia Senator Loyce Turner. It is a premier regional arts center located in Valdosta, Ga., and houses six galleries, two classrooms and a gift shop that showcases the works of local and regional artists.
Join us at noon on Wednesday at Rainwater Conference Center for this presentation.
This week we will be focusing on our own club during our Monthly Club Assembly. We will be inducting a new member, give out a blue badge, recognizing  a Will Watt Fellow, learning more about being Paul Harris Fellow or Will Watt Fellow and the Rotary Foundation, learning about the District Database and Rotary.org and disussing how we can recruit and retain new members. We will have an update on the Imagination Library from Dennis Marks.
Looking forward to seeing you at noon on Wednesday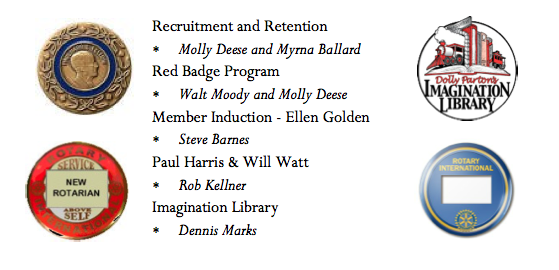 Jack Hartley
President 2015-2016
Today is club assembly week but we will be having a special donation for Nepal.
The disaster in Nepal has staggered that nation. Thousands have been killed. Almost 3 million are homeless.
Rotary is one of the organizations that wants to respond and help. District Governor Ted Thompson is giving $10,000 from Global Grants to this project. He has challenged each Club to give a $1,000 ShelterBox (a special tent with basic survival supplies). See DG Ted's letter below.
I called a special Board Meeting today to present this need. Corey Hull, who headed up Racing with Rotary, suggested that we use $600 in profits from Racing with Rotary. We also have $250 committed from Global outreach. That put us at $850. One of your outstanding Board members said, "I'd like to give $50." Four others chimed in.
Here's the bottom line: We have enough for the $1,000 ShelterBox. But Rotarians aren't known for doing just enough to get by. We want to do more and make a difference by generously putting service above self.
So I'm asking if there is anyone else in the Club who would like to make a contribution so we can give more. The amount doesn't matter. Just give what you feel called to give. No pressure. No guilt. Only if you feel led to do so.
Would you bring that to TODAY'S MEETING? I'd like to present a check to DG Ted that totals all that we have–including what we all bring today — Wednesday – May 13th.
Your friend in Rotary,
Bob Moon, President
Dear Rotary Friends;
I enjoyed our Christmas party Tuesday evening at the Valdosta Country Club very much! Thank you to Wes Sewell, Molly Deese, Barbara Watson, Barbara Knight, Kerry Morris, Molly Roan, Bubba Highsmith, Jeremy Chick and John Page for planning the event. Also, a special thank you to all of you who provided Christmas gifts to children for the Children's Advocacy Center.
Just a reminder, our next scheduled meeting will be Wednesday, January 7th at the Rainwater Conference Center.
Your friend in Rotary,
Bob
Bob Moon
President, Valdosta Rotary
THANKS!!
Eliza McCall was here at Rotary today from Second Harvest. What a delight to present to her 4 big bags of canned food and $439. Second Harvest can buy 4 pounds of food for a dollar. That means we almost got to a TON of food. Thanks to the exuberant Jeremy Chick for gathering the funds. What a blessing this will be to those in need in our own community.
And to all of you wonderful Rotarians, THANKS A TON for making to a difference!
Your friend in Rotary,
Bob
Bob Moon, President 2014-15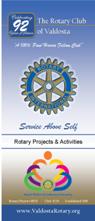 The Rotary Club of Valdosta is engaged in a number of annual service projects.  For a complete list of all our current projects please click on brochure above or the link provided below.
Imagination Library

The Rotary clubs of Valdosta, Valdosta North, and Valdosta Sunrise are working with the Ferst Foundation and the Dolly Parton Foundation to raise money for books for pre-school children in Lowndes County.  Children enrolled in the program receive an Imagination Library book – from The Little Engine that Could to Look Out Kindergarten, Here I Come – each month until age five.  Use the following links to view a copy of our brochures.
Imagination Library Brochure (cover)
Imagination Library Brochure (inside)
Ringing the Bell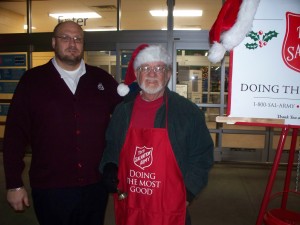 Members of the Rotary Club of Valdosta manned the kettles for The  Salvation Army last Thursday at both entrances of the Wal-Mart on  Perimeter Road in Valdosta. This is an annual service project for our club. Particularly new members were encouraged to participate, however we always have more than enough in line to sign up for a slot. Everyone agrees that we all leave feeling blessed by the true spirit of the holidays. The Salvation Army Captain Guy Nickum is seen here with Rotarian Bill Feimster.