Archive for the 'Rota-Reel' Category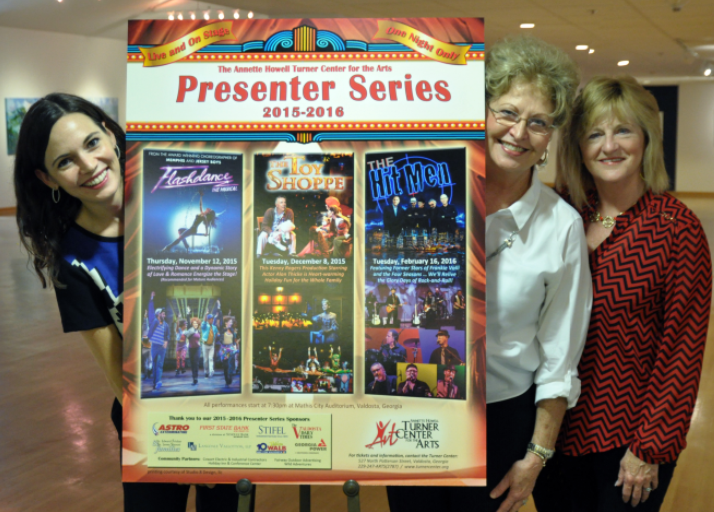 Joanna Nijem, Cheryl Oliver, Nancy D. Warren will entertain us with a preview of the Turner Center for the Arts Presenter Series lineup, which includes the Broadway shows for the 2015-2016 season.
The Annette Howell Turner Center for the Arts was built in 2003 and named in memory of Annette Howell Turner, late wife of former Georgia Senator Loyce Turner. It is a premier regional arts center located in Valdosta, Ga., and houses six galleries, two classrooms and a gift shop that showcases the works of local and regional artists.
Join us at noon on Wednesday at Rainwater Conference Center for this presentation.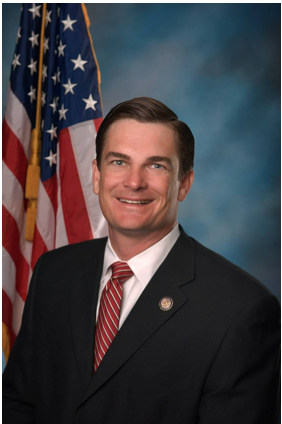 Austin Scott is in his third-term as the U.S. Representative for Georgia's Eighth Congressional District. Prior to his election to Congress 2010 he was a small business owner and spent 14 years in the Georgia state House, beginning with his first election at age 26.
Austin, who graduated from the University of Georgia with a B.B.A. in Risk Management and Insurance, owned and operated an insurance brokerage firm for nearly twenty years.
He is known as a conservative on both economic and social issues and as a fierce defender of limited government, a strong national defense, and our 2nd Amendment rights.
Austin's political experience on the state level and background in risk management has given him a unique perspective in Washington. He utilizes that understanding to draft and promote legislation which works to open access to capital for American businesses, eliminate burdensome regulations on entrepreneurs and investors, and provide economic opportunities for the next generation.
In the 114th Congress, Scott was appointed Chairman of the House Agriculture Committee's Subcommittee on Commodity Exchanges, Energy, and Credit. Additionally, he continues his post on the House Armed Services Committee where he serves on the Oversight and Investigation Subcommittee and the Readiness Subcommittee.
Join us at noon on Wednesday at Rainwater Conference Center for this presentation.
This week we will be focusing on our own club during our Monthly Club Assembly. We will be inducting a new member, give out a blue badge, recognizing  a Will Watt Fellow, learning more about being Paul Harris Fellow or Will Watt Fellow and the Rotary Foundation, learning about the District Database and Rotary.org and disussing how we can recruit and retain new members. We will have an update on the Imagination Library from Dennis Marks.
Looking forward to seeing you at noon on Wednesday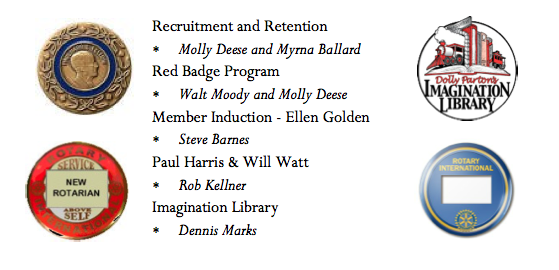 Jack Hartley
President 2015-2016
Jim Zachary is the editor of the Valdosta Daily Times. He is a member of the board of directors of the Georgia First Amendment Foundation, the founder and Director of the Transparency Project of Georgia, a member of the board of directors of the Red & Black newspaper at UGA and a regular presenter at journalism workshops and seminars for the Georgia Press Association, Georgia College Press Association and Tennessee Press Association.
Jim is a newspaper veteran who has championed open records and open meetings causes throughout his career. Largely due to his work as a public watchdog, Jim has been recognized by his peers this year with accomplishments that include:
• 2015 Associated Press Media Editors Award: First Place Freedom of Information • 2015 Associated Press Media Editors Award: First, Second, Third Place Best Editorials • 2015 Georgia Press Association: First Place Community Service for Open Government Advocacy • 2015 Georgia Press Association: First Place Editorial Page
Sandi Shaw is a current board member of the Thomasville Entertainment Foundation. Sandi is also the owner of the Accidental Gallery where she teaches art and curates art shows.
Sandi is a past president of the Kansas City Symphony Guild and a past board member for the Kansas City Metropolitan Theatre.
During Sandi's career, she enjoyed teaching social work at San Jose State University, and directing the Spelman Medical Foundation in Kansas City. Sandi was also a trustee for Starr King School for the Ministry, part of the UC Berkley School of Graduate Theology.
Sandi and her husband, Mark, live in Thomasville with their retired cat and dog.
See you at noon on Wednesday at the Rainwater Conference Center.
Chelsea Carter has been a School Outreach Coordinator with the Safe Routes to School Resource Center for 2 years. As a Mass Communications graduate of Valdosta State University, Chelsea happily lives in Valdosta while assisting 62 counties in SRTS program implementation, networking and event planning.
Come to Rainwater Conference Center at noon on Wednesday to hear this about this vital program for school safety.
Today is club assembly week but we will be having a special donation for Nepal.
The disaster in Nepal has staggered that nation. Thousands have been killed. Almost 3 million are homeless.
Rotary is one of the organizations that wants to respond and help. District Governor Ted Thompson is giving $10,000 from Global Grants to this project. He has challenged each Club to give a $1,000 ShelterBox (a special tent with basic survival supplies). See DG Ted's letter below.
I called a special Board Meeting today to present this need. Corey Hull, who headed up Racing with Rotary, suggested that we use $600 in profits from Racing with Rotary. We also have $250 committed from Global outreach. That put us at $850. One of your outstanding Board members said, "I'd like to give $50." Four others chimed in.
Here's the bottom line: We have enough for the $1,000 ShelterBox. But Rotarians aren't known for doing just enough to get by. We want to do more and make a difference by generously putting service above self.
So I'm asking if there is anyone else in the Club who would like to make a contribution so we can give more. The amount doesn't matter. Just give what you feel called to give. No pressure. No guilt. Only if you feel led to do so.
Would you bring that to TODAY'S MEETING? I'd like to present a check to DG Ted that totals all that we have–including what we all bring today — Wednesday – May 13th.
Your friend in Rotary,
Bob Moon, President
Terri Jenkins has worked for the American Red Cross for six years and is currently the American Red Cross Executive Director. Her duties include volunteer development, fundraising, relationship management and working with the board of directors to reach financial goals set for the chapter.
Jenkins joined the Red Cross as a volunteer in 2007 when she joined the board of directors. She was the Recording Secretary for two years then became the Philanthropy Committee Chair.
In 2009, Jenkins was hired as the executive director of the chapter which then covered four counties. A year later, the coverage area grew to 11 counties when she acquired the chapters in Moultrie and Thomasville and the Valdosta Chapter became the South Georgia Chapter. As of January 1, 2015, the American Red Cross of South Georgia covers 20 counties.
.
You may have them in your home or in your office. They wait on you in every retail establishment you enter. They are the Millennials—the approximately 80 million young adults born between 1980 and 2000. They are the best educated, most optimistic, digital natives who haven't learned yet not to ask "why?" They're frustrating, enchanting, and profoundly changing the world of work forever. How do you make the most of them? Shirley Serini, one of our members, will share some insights and ideas in this week's program. Shirley is an assistant professor who teaches public relations at VSU. Her research interest in Millennials is based on the young adults she teaches and the hope for the future she sees in them. An accredited public relations professional, she has both a professional and a teaching background in public relations. Originally from Chicago, she has been teaching for more than 30 years, the last four at Valdosta State University. She holds an undergraduate degree from the University of Kentucky, a masters from the State University of New York, and a doctorate from the University of Iowa, as well as a diploma in Family Life Ministry from Creighton University. She has worked as a professional fund raiser, communication director, broadcast art director, public relations consultant, free lance writer, and retail manager, in addition to providing public relations consulting and services to a variety of local and national not-for-profit organizations. She is an award-winning scholar who has presented her research nationally and internationally.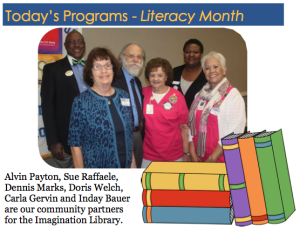 Club Assemblies are time when we recognize the achievements of the club and of our members. It's the time when we have new members join, mark milestones like birthdays and anniversaries and "upgrade" from red to blue badges.  This week we will hear from the Imagination Library team about the project to deliver books to children in our community, free of charge. Last week, team members were with us as a warm up.
Don't forget that we are meeting at the Valdosta Country Club this week (not the Conference Center!)  See you there.