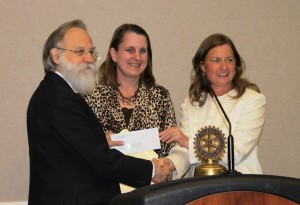 Pictured (From L to R)Â  Past President Dr. Dennis Marks, Sonya Aldridge, Manager of Marketing and Member Services, and Dixie Lightfoot, Valdosta District Manager.

10-05-11: Past President Dr. Dennis Marks serves as the literacy chair for the Rotary Club of Valdosta. On Wednesday he was pleased to accept a donation to the program from Colquitt EMC.  On behalf of the Valdosta Rotary Foundation and the children who will benefit from their generosity, we would like to express our sincere thanks to Colquitt EMC District Manager Dixie Lightfoot, Bruce Bailey, …and the other members of the Colquitt EMC team, for their $1,000 donation to the Rotary's Imagination Library project.
The Valdosta area Rotary Clubs – Valdosta, Valdosta North, and Valdosta Sunrise – are working with the Ferst Foundation for Childhood Literacy to provide Dolly Parton's Imagination Library books each month to children under the age of five in Lowndes County.  We believe that early reading is important to all parts of the community because it leads to a lifetime of opportunity. Children who learn to read early in life become avid learners in school, skillful workers on the job, and informed citizens in the community. With Colquitt EMC's support, we are one step closer to every child in Lowndes County entering school prepared to learn.  Colquitt EMC's contribution of $1,000 will provide an Imagination Library book each month for a year for 28 children under the age of five in Lowndes County.  Their support is sincerely appreciated!