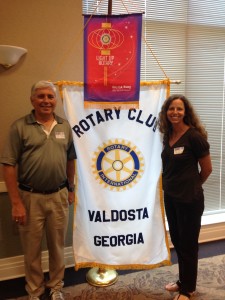 Roger W. Horton III, General Manager and Vice President of Landis International gave the group an overview of how Landis International helps corporations navigate the process of having products approved for use by the USDA.
Roger is responsible for all administrative activities of the Landis International, including finance, accounting, human resources, and the facility.
August 27 2014 RR
Roger joined Landis International in 2002, after a 16 year career in Human Resources with several corporations including Russell Athletic, Raytheon, and United Technologies. He holds the certification of Senior Professional in Human Resources from the Society of Human Resource Management.
Roger earned his B.S. in Business Administration from Auburn University.
This weeks RotaReel:  2014-08-27-RR