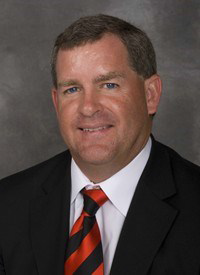 Currently serving his ninth season as Valdosta State University head coach, David
Dean led the Blazer squad to the NCAA Division II national championships in 2007
and 2012.
David began his coaching career at VSU in 1988. Under his leadership, the
Blazers have earned a career record of 70 wins against 24 losses, received All-
American recognition on 21 occasions, and were named All-Gulf South Conference 59
times. He has since coached 10 Blazers into the NFL including free agent cornerback
Maurice Leggett in 2008 who went on to win Rookie of the Year award and the NFL
Special Teams Player of the week during his first season.
David is a member of the American Football Coaches Association and Fellowship
of Christian Athletes. He and wife Stacie Scott have three daughters—Caroline,
Allison and Natalie.