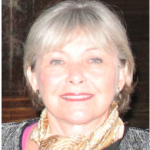 Sandi Shaw is a current board member of the Thomasville Entertainment Foundation. Sandi is also the owner of the Accidental Gallery where she teaches art and curates art shows.
Sandi is a past president of the Kansas City Symphony Guild and a past board member for the Kansas City Metropolitan Theatre.
During Sandi's career, she enjoyed teaching social work at San Jose State University, and directing the Spelman Medical Foundation in Kansas City. Sandi was also a trustee for Starr King School for the Ministry, part of the UC Berkley School of Graduate Theology.
Sandi and her husband, Mark, live in Thomasville with their retired cat and dog.
See you at noon on Wednesday at the Rainwater Conference Center.