For years, Rotarian Ty O'Steen has worked with The Marine Corp "Toys for Tots" campaign.  They collect and sort donated toys and distribute them to needy kids.  Our region covers Lowndes county and six other surrounding counties. However, all toys collected in Lowndes County are distributed in Lowndes County.  They work with DFACS and with area churches to assist in the screening process.
In the past "Toys for Tots" National Foundation has been able to help by sending truck loads of toys donated by corporations.  However, this year the  National Foundation has warned that they will not be able to send any toys.  Your help is needed! If you are interested in helping, please contact Ty O'Steen or bring your unwrapped toy to this week's meeting and we will see that it gets in the right hands.  You may also bring gifts to the club holiday party next Tuesday at the Valdosta Country Club.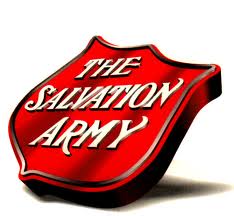 Ringing the Bell – Members of the Rotary Club of Valdosta manned the kettles for The  Salvation Army last Thursday at both entrances of the Wal-Mart on  Perimeter Road in Valdosta. This is an annual service project for our club. Particularly new members were encouraged to participate, however we always have more than enough in line to sign up for a slot. Everyone agrees that we all leave feeling blessed by the true spirit of the holidays. The Salvation Army Captain Guy Nickum is seen here with Rotarian Bill Feimster.