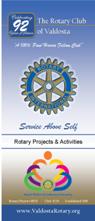 The Rotary Club of Valdosta is engaged in a number of annual service projects.  For a complete list of all our current projects please click on brochure above or the link provided below.
Imagination Library

The Rotary clubs of Valdosta, Valdosta North, and Valdosta Sunrise are working with the Ferst Foundation and the Dolly Parton Foundation to raise money for books for pre-school children in Lowndes County.  Children enrolled in the program receive an Imagination Library book – from The Little Engine that Could to Look Out Kindergarten, Here I Come – each month until age five.  Use the following links to view a copy of our brochures.
Imagination Library Brochure (cover)
Imagination Library Brochure (inside)
Ringing the Bell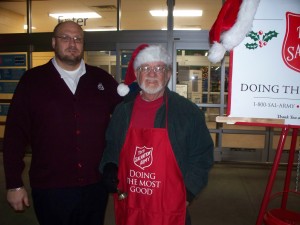 Members of the Rotary Club of Valdosta manned the kettles for The  Salvation Army last Thursday at both entrances of the Wal-Mart on  Perimeter Road in Valdosta. This is an annual service project for our club. Particularly new members were encouraged to participate, however we always have more than enough in line to sign up for a slot. Everyone agrees that we all leave feeling blessed by the true spirit of the holidays. The Salvation Army Captain Guy Nickum is seen here with Rotarian Bill Feimster.